De Stompe Toren Kerk, Spaarnwoude
"Transit"
Exposition of Annemarie Eilers and Marcella van Zanten
The month of October in the Stompe Toren in Spaarnwoude:
Every Sunday afternoon open from 12.00-16.00
Marcella will be there on 8 th and 29 th October. Then there are also concerts from 14.00- 15.30, free for all public. Please be on time to not disturb the concert!
Two volunteers will be there on the 15th and 22nd October.
The opening was done on the 1st October 14:30 by:
Beau van Erven Dorens
Marcella:
Sometimes I try to translate a theme of my mothers paintings to my own visual language of this time.
We both work in oil paint (every layer takes a week to dry) and gouache which dries quicker. My mother's teacher was the famous Jan Wiegers who Wasa regular and an artistic friend of Ernst Ludwig Kirchner. I had les do s of Eric de Nie. The workday the exhibition were chosen by me and Robert Smit arranged it in the exhibition. It is like composing with paintings.
The connection between the works of Annemarie (more figuratively) and mine (more abstract) is very clear.
"Doorreis"
Expositie van Annemarie Eilers en Marcella van Zanten
De maand oktober in de Stompe Toren te Spaarnwoude:
Zondagmiddag geopend van 12.00-16.00 uur
Marcella is er 8 en 29 oktober. Dan zijn er ook concerten van 14.00-15.30, openbaar en vrij toegankelijk. Wel op tijd komen anders stoort t het concert!
Twee vrijwilligers zijn er op 15 en 22 oktober.
De opening op 1 oktober 14:30 is gedaan door:
Beau van Erven Dorens
Marcella:
Af en toe probeer ik een thema van mijn moeder in eigentijdse visuele taal te vertolken.
Wij werken beiden met olieverf (ieder laagje duurt ongeveer een week voor t droog is) en gouache wat sneller droogt. Mijn moeder had vroeger les van Jan Wiegers, die artistiek en gewoon bevriend was met de beroemde kunstenaar Ernst Ludwig Kirchner. Ik had les van oa Eric de Nie. De werken in de tentoonstelling zijn door mij geselecteerd en zijn bijna allen nog niet eerder tentoon gesteld. Door Robert Smit is de expositie ingedeeld (dat is net als schilderen een soort componeren zodat ze elkaar versterken) …
Het is soms duidelijk te zien dat er een bepaalde verwantschap is tussen het meer figuratieve werk van Annemarie en het meer abstracte van Marcella.
Het was kort dag omdat er bij de kerk plotseling ruimte was in oktober…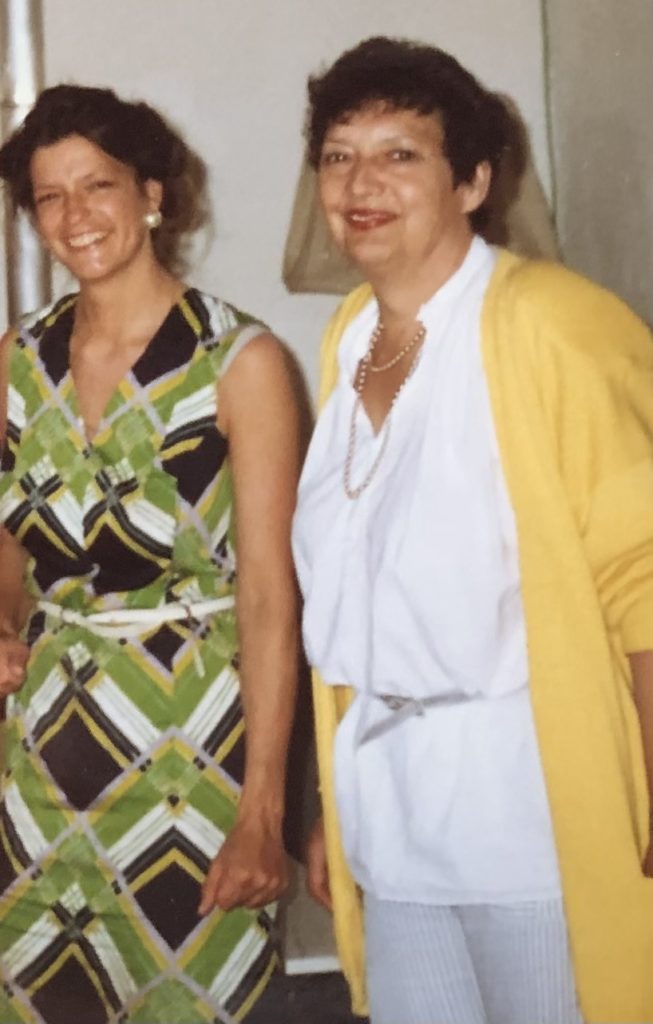 Annemarie Eilers and Marcella van Zanten worked together many years in different countries with different materials.
The works are almost all for sale and Marcella will answer all your questions.
The works on paper are framed behind glass. Oil paintings are mostly framed as well and can be framed otherwise, this will be not in the prize. VAT is in the prize.
Annemarie Eilers en Marcella van Zanten werkten samen gedurende een aantal jaar in diverse landen met verschillende materialen.
De werken zijn bijna allemaal te koop. Marcella kan al uw vragen beantwoorden als u die heeft.
De werken op papier zijn ingelijst achter glas. Olieverfschilderijen zijn meestal ook ingelijst en kunnen uiteraard in een andere lijst, dit is niet bij de prijs inbegrepen. BTW is wel bij de prijs inbegrepen.